First impressions are everything. Your home's exterior is no exception. When you're choosing a front door, it's crucial you go with one that's made of the right material—it has to look great and be durable enough to withstand what nature throws at it. The best exterior door material is also one that has the flexibility to be customized to the size, shape, style and finish that you want.
You may be asking, what material is better? Wood or fiberglass?
There's a lot of information (and misinformation) out there about how wood and fiberglass doors compare. We want to help clear things up so you can choose with confidence.
The unmatched design flexibility of wood
Simply put, exterior wood doors offer versatility that fiberglass cannot match. With wood doors, you can easily customize your door to virtually any size, shape or thickness you need. Stile and rail placement can be adapted to your requests, and you can even explore stylish alterations like an arch top, clipped corner, or Dutch door.
Fiberglass doors, on the other hand, are made from molds that are often used to create thousands of identical copies.
The unmatched customization capabilities of wood doors make it possible to bring these statement-making trends to the front of your home:
Wood exterior doors look like the real thing because they are the real thing
The high-end look and warmth of solid-wood doors is almost impossible to mimic. While fiberglass door manufacturers are attempting to reproduce the look of natural wood, there remains an obvious difference between the real thing and the imitation.
Even at a foundational level, fiberglass doesn't look or feel like natural wood. It can't offer unique grain patterns or the rich earthiness of natural wood tones. For fiberglass doors with a wood-grained look, the grain is repetitive and stamped out—not indicative of the uniqueness of wood.
"It's easy to understand why many of us still like our doors to be made of wood," notes a home improvement expert at This Old House magazine. "Nothing else matches the material's warmth and satisfying heft."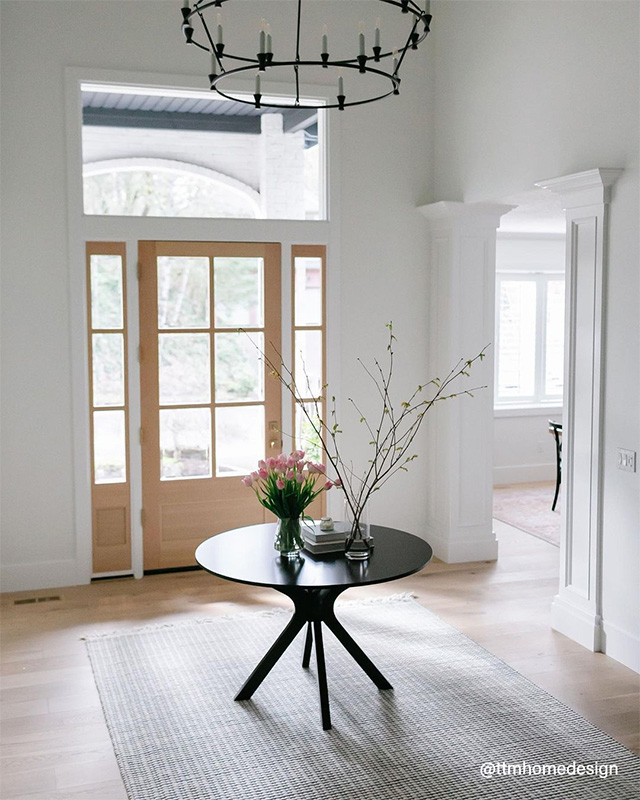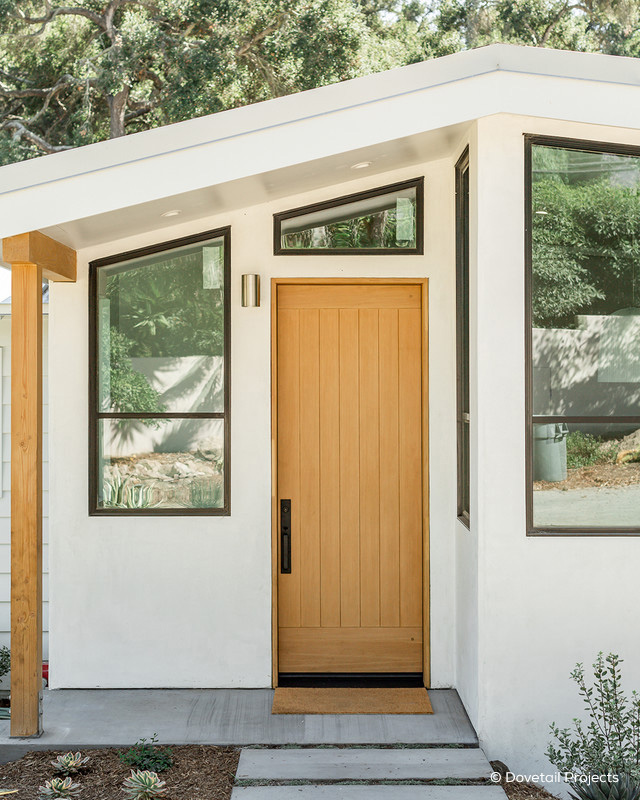 The natural insulation and precise fit of wood doors help stabilize temperatures inside your home
One of fiberglass' main draws is that it has good insulating properties, which are achieved by filling the cavity of the hollow fiberglass door with an insulating foam. Wood, meanwhile, has natural insulation characteristics.
When it comes to exterior doors, what impacts your home's temperature the most is how the door is fitted and hung within the unit. With wood's ability to be customized for a precise fit at virtually any size and shape, you'll have a door that fits snugly and helps prevent heat from entering or escaping through gaps.
High-quality exterior wood doors are built to stand the test of time
All exterior building products require some level of maintenance. The same is true of both fiberglass and wood doors. When it comes to exterior doors, the amount of maintenance needed depends on how exposed the door is to both weather and the sun's harmful UV rays.
Thanks to advanced construction techniques, today's exterior wood doors can uphold their beauty in diverse climates and weather conditions. If the door is protected from the elements by a porch or overhang, virtually any door can be used. If there is no overhang protection, make sure to select the proper product upgrades for the exposure.
Any conversation about weather-resistant exterior doors needs to include Simpson Door Company's Nantucket Collection™. Backed by a 10-year warranty with no porch or overhang required, these doors combine a modified mortise-and-tenon construction technique with weather-resistant wood species like Douglas Fir, Sapele Mahogany, Nootka Cypress and Western Hemlock. The result is a door that will retain its rugged beauty for years after installation, regardless of what nature sends its way.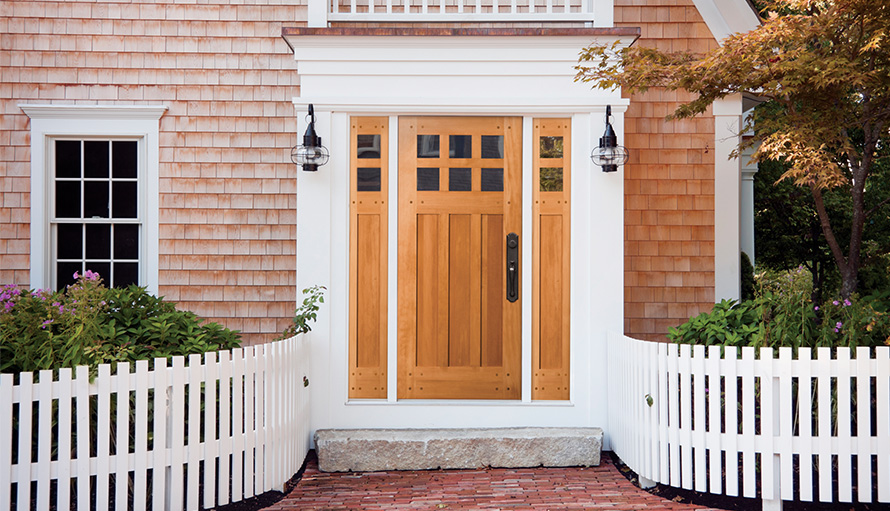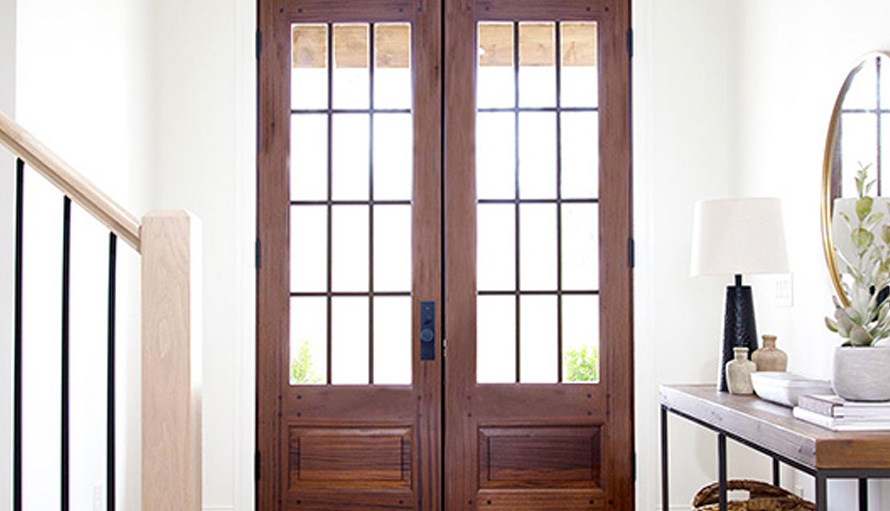 Which exterior door material is better? Wood or fiberglass?
There's a lot to consider when you're looking for the right material for your exterior door. Fiberglass doors perform well in some ways. But high-quality wood exterior doors can't be beat when it comes to delivering the natural beauty and design flexibility you need to keep your home looking its best for years to come.
To find an exterior door that's the perfect match for your home, test drive a door today.
---