Douglas fir, western hemlock or mahogany? When choosing the type of wood for your exterior door, there are a limitless number of options to help accommodate your home's design aesthetic, from classic to modern to rustic. With varying grain patterns and rich colors, each wood type has its own distinctive texture, warmth and personality.
We're here to help you find your dream exterior door and create a resilient, personalized entrance for your home. Front doors should complement the overall style of your home, both outside and in. Examining the unique aesthetic and performance qualities of different wood species is the first step of the door selection process. Along with enhancing the exterior aesthetic, it's essential to consider each door's compatibility with your home's interior elements such as flooring, cabinetry, trim and millwork. Matching your exterior door to your interior style maintains a cohesive design flow that makes a great first impression on guests and boosts your home's curb appeal.
Here's a look at four of the most popular wood choices for a front door to help you make an informed design decision.
DOUGLAS FIR
Interested in a door with charm, strength and exceptional stain or paint possibilities? Douglas fir adds natural beauty and can be employed in virtually any door style to match a wide range of architectural styles. Its tight, vertical grain patterns and warm coloring add design allure. Known for its resistance to rot and pests, a painted or stained Douglas fir door can uphold its beautiful appearance and last for generations in many types of climates and weather conditions with proper protection and periodic maintenance.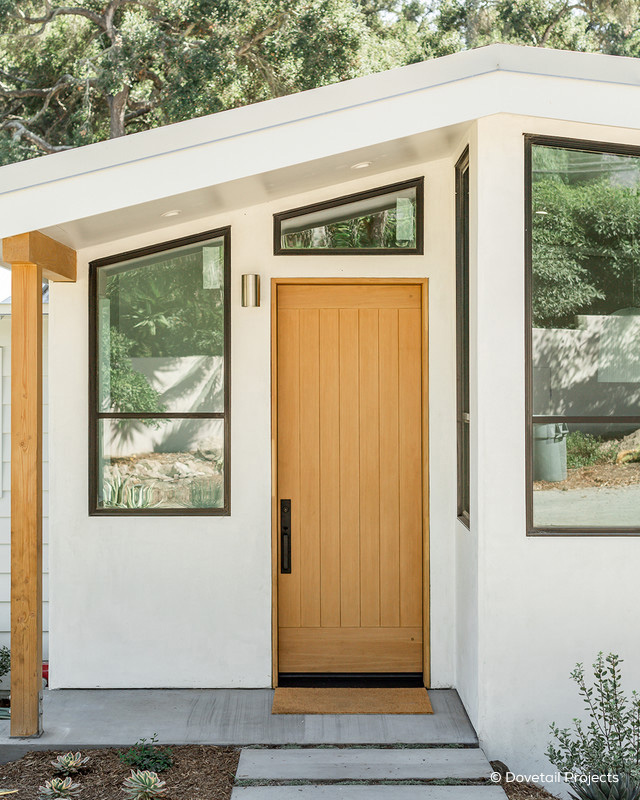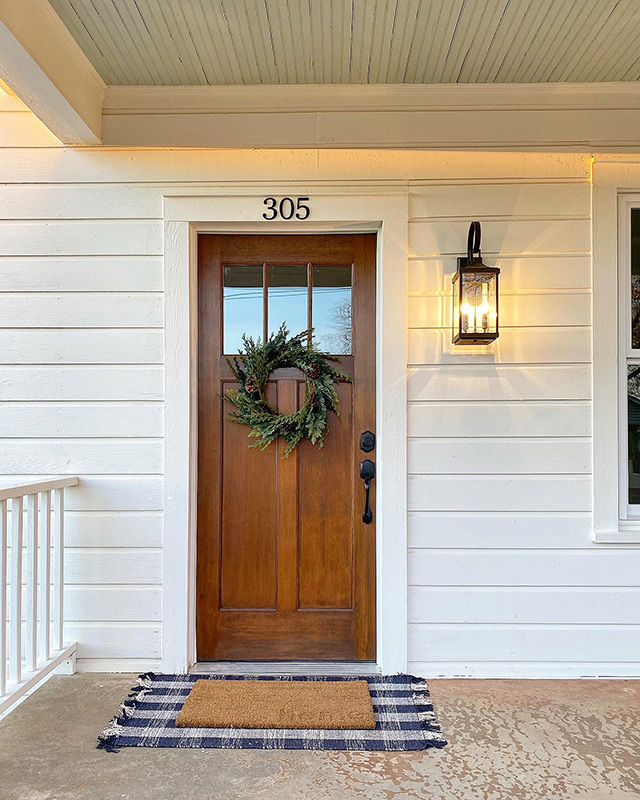 KNOTTY ALDER
Both sturdy and stunning, the informal presence of knotty alder complements rustic, western or Mediterranean design. This visually appealing yet highly resilient wood species is the softest of hardwoods, characterized by areas of elegant burls and open, solid knots. Knotty alder's beautiful hues range from light honey with tints of peach to light brown with cherry accents. This medium-density hardwood features a fine grain, made even more pronounced and eye-catching with stains and other finishing treatments.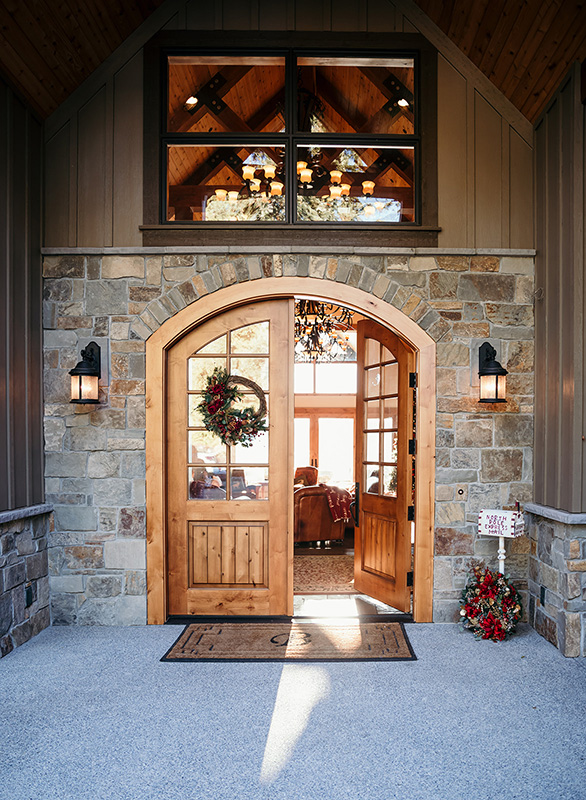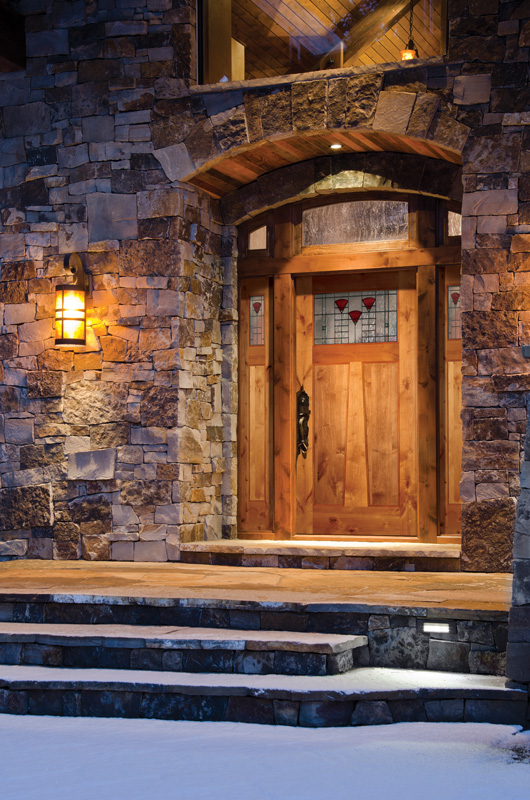 SAPELE MAHOGANY
The distinctive patterns created by the wood's reddish-brown coloring and eye-catching graining make sapele mahogany a popular choice with many homeowners. With a medium hardness superior to most North American species, sapele mahogany is a reliable wood that provides optimal resistance from the elements in exterior applications. Not to mention, sapele mahogany's tight pore and grain structure are optimal for staining.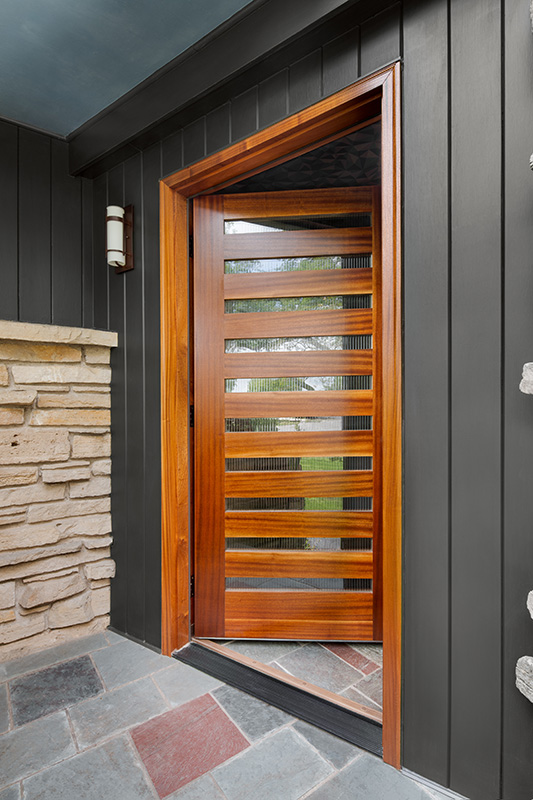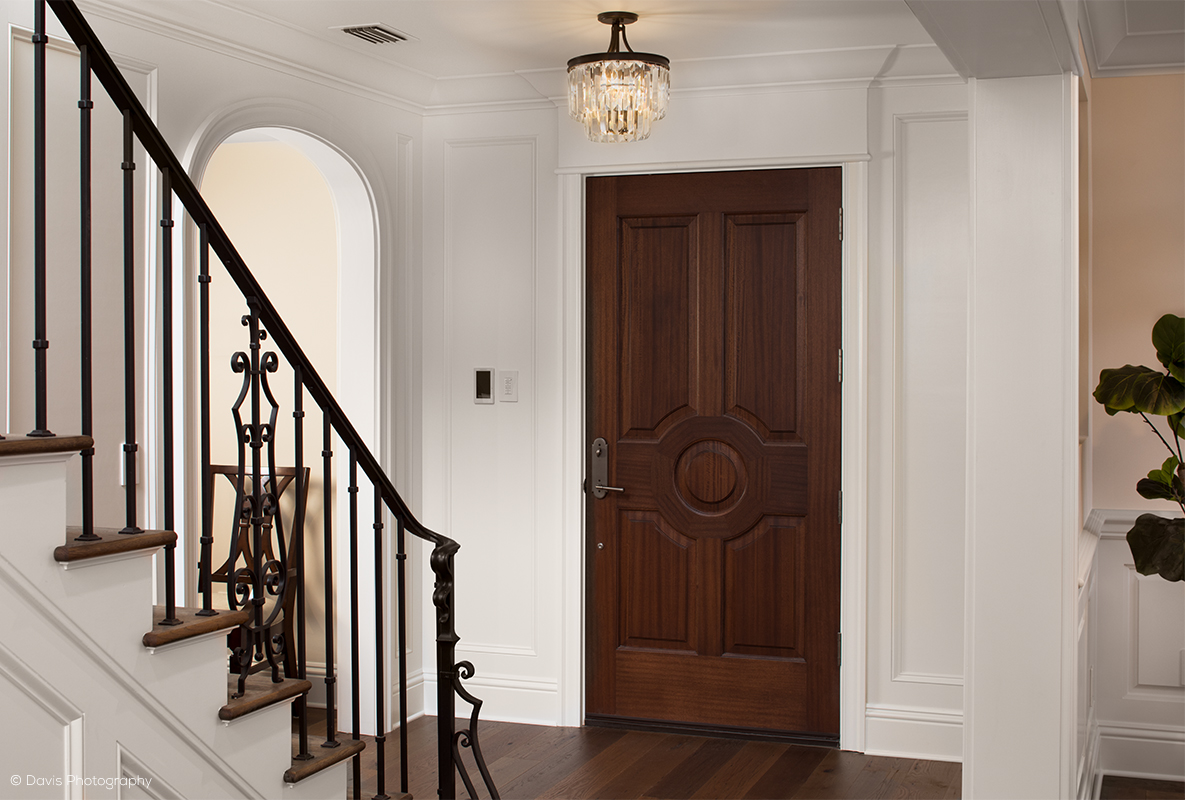 WHITE OAK
Light in tone yet rich in color, white oak doors provide a contemporary look that perfectly suits modern design while simultaneously evoking a sense of warmth and comfort. The striking, organic grain of white oak reveals a rich finish when stained. It's a hard and heavy wood with intense flecks of rays and patterns that bring a reflective quality and character to your exterior door. In application, the rugged durability that the wood species provides is appealing to most homeowners.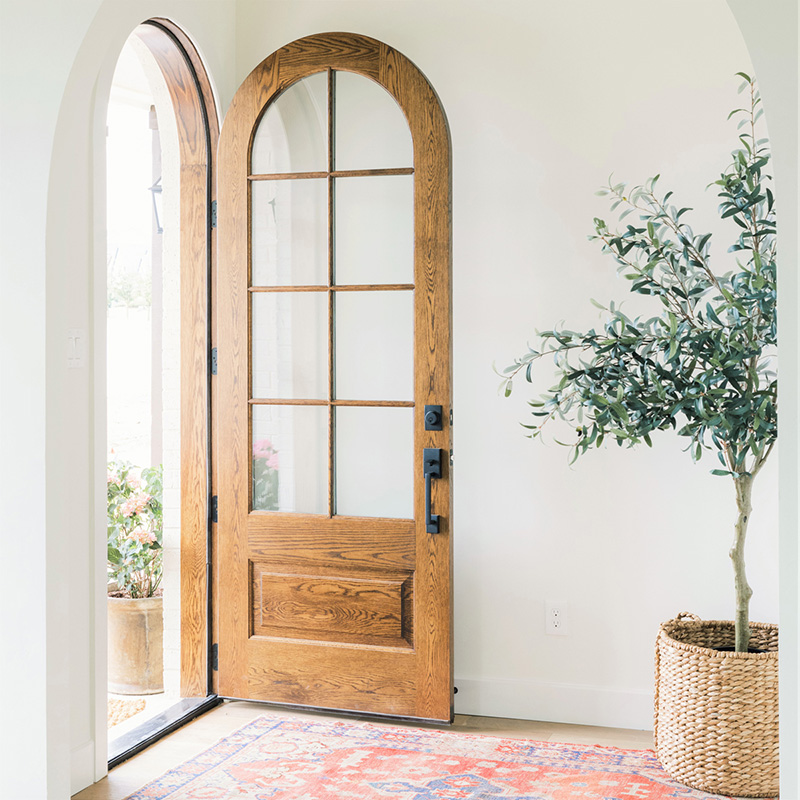 MAKE A GRAND ENTRANCE – AND KEEP IT THAT WAY
Your beautiful wood front door is similar to a piece of fine furniture. Would you set your dining room table outdoors without protection from the elements? All exterior building products require maintenance and wood doors are no exception.
To start, location and climate impact your door's maintenance. Live in a cloudy, cool climate? There's a bright side: your door's finish will require less upkeep than areas with more UV rays. Regardless of location, most exterior doors must meet overhang requirements to ensure protection from harsh weathering.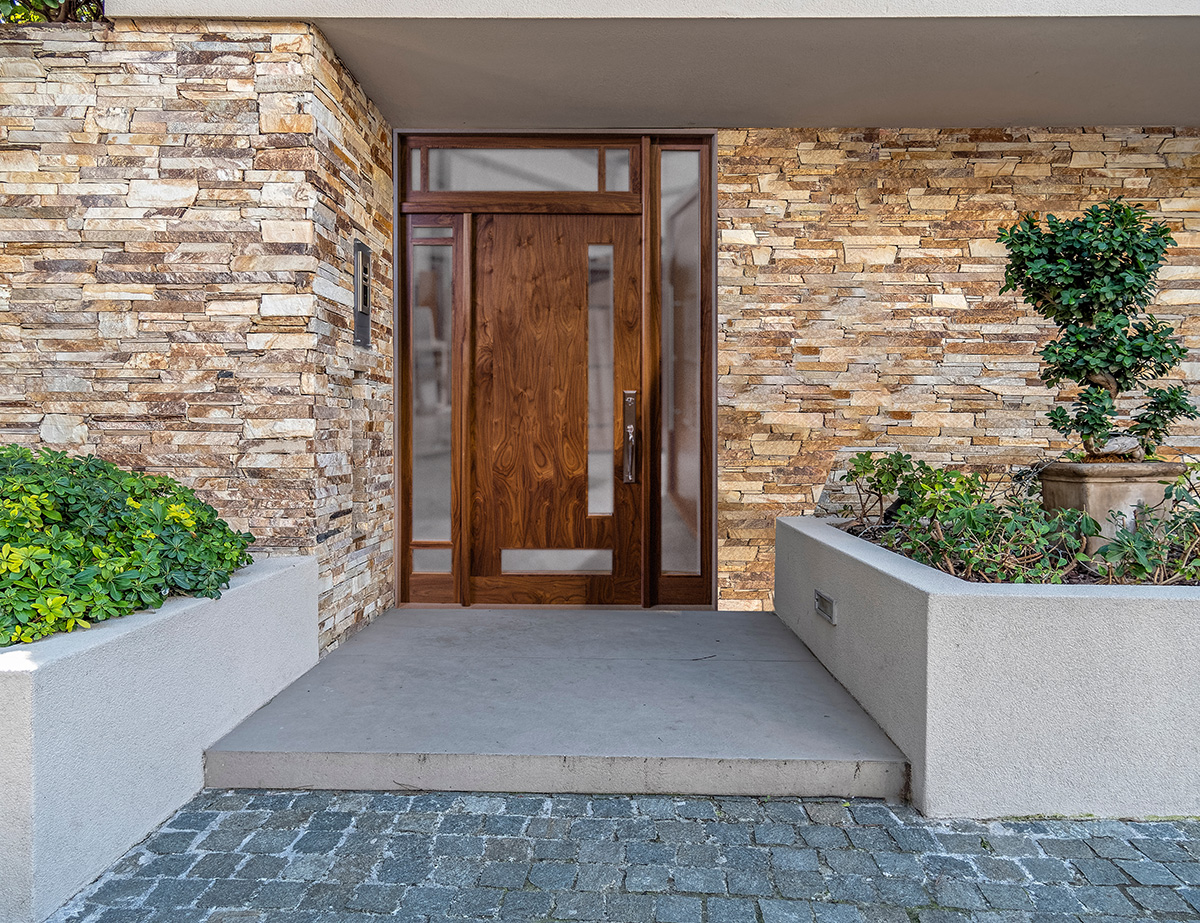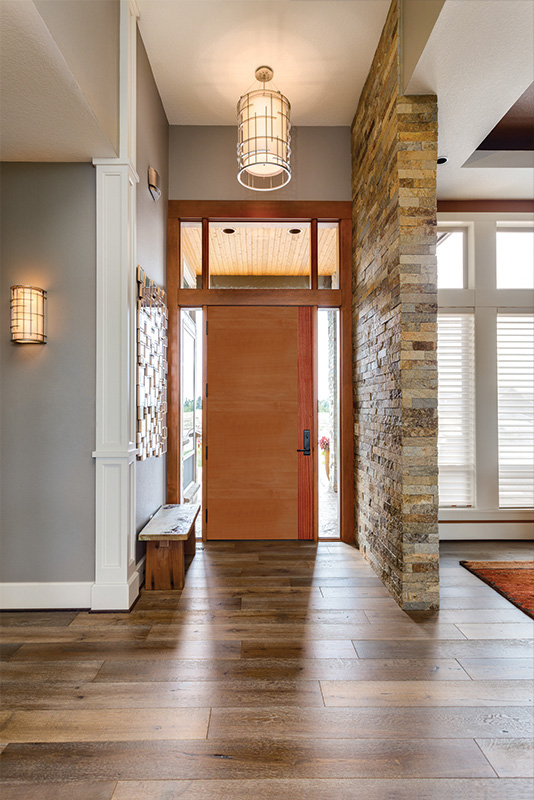 Lacking an adequate overhang? Fortunately, Simpson Door Company makes it possible to preserve your statement-making entrance with our Nantucket Collection™ and our WaterBarrier® technology upgrades. Developed for exterior wood doors subject to harsher environments, these enhancements offer maximum protection without sacrificing the custom-made look you expect from Simpson Door Company.
Doors with the WaterBarrier technology upgrade incorporate a medium density overlay (MDO) over exterior surfaces, which keeps water out and is a beautiful surface for paint. The interior of the door can be painted or stained. And all doors with WaterBarrier carry a 5-year warranty with no overhang required.
Simpson's high-performance Nantucket Collection doors combine exceptional durability and a stunning aesthetic without requiring an overhang to maintain their 10-year warranty. Now available with and without face pins—Nantucket doors come in four different wood species, including Douglas Fir, Sapele Mahogany, Nootka Cypress and Western Hemlock. Nantucket Collection doors can be painted or stained.
Simpson has made doors from over 100 different types of wood, so you can select the type that is uniquely you! You can view the 23 most popular wood types for your exterior door by exploring Simpson's Wood Selector tool. Any Simpson door can be wholly customized by wood species, size, shape or glass type to match your vision and enhance your home's curb appeal.
---